The Ocean & Coco Poolside restaurant at Rosa Alba Resort will host a special Buffet dinner on April 30th – the day of the reunification of Vietnam. The program will take place from 5pm to 9pm and offer guests a unique culinary and entertainment experience.
Introducing the Buffet Dinner Program on April 30th
With over 30 different dishes prepared by talented chefs, guests can indulge in local specialties from different regions of the country, as well as a diverse range of international dishes. The program also provides a wide variety of drinks, including wine, beer, fruit juice, and other beverages.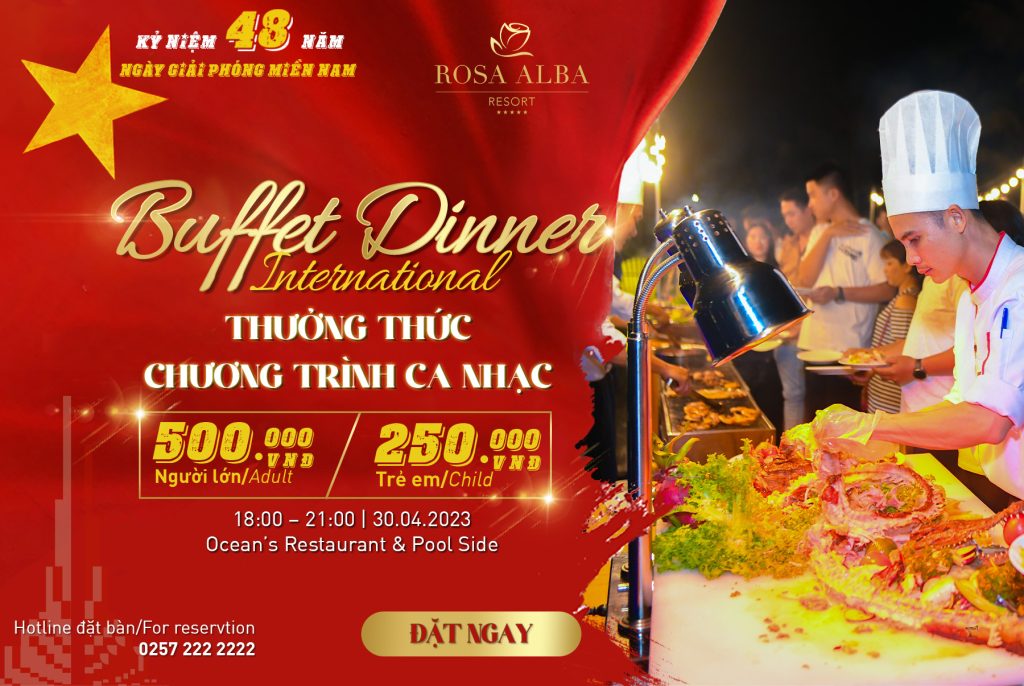 To make the evening more exciting and special, the program also includes various art performances such as singing and dancing. With the combination of music, lighting, and art performances, the program will provide a very unique and enjoyable entertainment experience.
Tickets for adults are priced at 500,000 VND/person, and tickets for children are 250,000 VND/person. With the discounted ticket prices and professional services, the Buffet dinner program at Ocean & Coco Poolside is sure to be an excellent culinary and entertainment experience for all guests.
Don't miss the chance to participate in the Buffet dinner program at Ocean & Coco Poolside at Rosa Alba Resort & Villas Tuy Hoa to enjoy a special culinary feast and beautiful surroundings at the restaurant. You can make reservations and find more detailed information by contacting us at 0257 222 2222, zalo 0372112226, or visiting our fanpage https://www.facebook.com/rosaalbaresortandvillasTuyHoa. Book now for an amazing culinary and entertainment night!