On January 26, 2024, we are extremely proud and excited to share the joy of celebrating Rosa Alba Resort's 5th birthday, a timeless and space-defying icon in the realm of relaxation in Phu Yen. For the past 5 years, we have relentlessly strived to provide our guests with the most exceptional resort experiences.
Welcome to Rosa Alba Resort – A Pink Pearl Nestled in the Heart of Phu Yen's Coastal Paradise!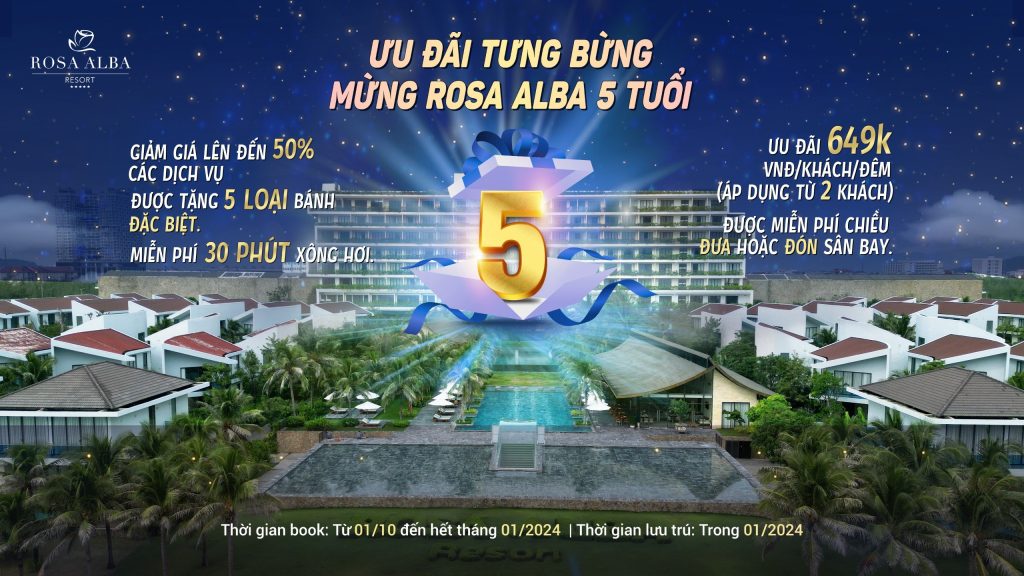 We are delighted to highlight some remarkable achievements we have attained over the past 5 years:
Rosa Alba Resort has continuously improved its services and amenities to meet the 5-star standard, ensuring comfort and luxury for all guests.
2. Going International:
We are proud to have received the 𝐓𝐎𝐏 𝟏𝟎 𝐁𝐑𝐀𝐍𝐃 𝐒𝐄𝐑𝐕𝐈𝐂𝐄 𝐅𝐀𝐌𝐈𝐋𝐘 𝐀𝐒𝐈𝐀 𝟐𝟎𝟐𝟑 award, demonstrating our excellence and international standards.
Rosa Alba Resort remains committed to its mission of providing high-quality, luxurious, and prestigious services, making it a must-visit destination when traveling to the beautiful coastal city of Tuy Hoa.
To celebrate this milestone, we are pleased to offer a special promotion:
Special Rate:
For only 649k per person per night (applicable for 2 guests), you can experience Rosa Alba Resort.
50% Discount:
Enjoy a 50% discount on all services at Rosa Alba.
Complimentary Spa:
Revel in a 30-minute complimentary spa session.
Special Welcome Treats:
Receive 5 special welcome pastries upon check-in.
Additional Spa Time:
Enjoy an extra 30 minutes of complimentary steam sauna.
Free Airport Transfers.
The booking period is valid from now until the end of January 2024, and your stay should conclude within January 2024. Don't miss the opportunity to enjoy an exciting vacation at Rosa Alba Resort during our 5th birthday celebration.
We sincerely thank our loyal customers for their support over the years and look forward to continuing this journey together. Join us in creating more unforgettable memories at Rosa Alba Resort!
For more details about the program, please feel free to contact us:
🏡 Address: 88 Le Duan, Ward 9, Tuy Hoa City, Phu Yen Province
☎ Phone: (+84) 257 2222 222 – 0346 79 22 29