As the Lunar New Year approaches, everyone is busy completing their work to welcome the new year. People are preparing their homes, cleaning and shopping for new items to make sure everything looks its best. And one thing that almost everyone has to do is to enhance their beauty, right? No one wants to welcome the new year without looking their best!
Rosa Alba Resort is pleased to introduce the "Spring Beauty Awakening" program to help people enhance their beauty and welcome the new year with joy and happiness.
Why you should choose Roseli Spa
Affiliated with Rosa Alba Resort, with a spa team trained to 5-star hotel standards. A reliable place for expertise, ensuring that you will be served in the best possible way.
Modern care equipment and professional service at the spa center will bring you an ideal and relaxing space. Experience it to love yourself more!
A luxurious and peaceful space, specially designed for you to relax and escape from the busy and worrying outside world.
A truly professional beauty spa that touches all 5 senses of human beings. The delicacy in the visual and tactile senses can be felt in a gentle, clean, and luxurious space. The sense of smell will be soothed by the sounds of soft music. Hearing will be comfortable when catching the intoxicating scents of essential oils. The natural aroma of flowers or even the fragrance of bedding will appeal to the olfactory senses. And the most genuine feeling is the relaxed feeling when experiencing the services here.
Many modern beauty methods are combined, such as massaging away excess fat, detoxifying under the skin with sauna therapy, rapid skin rejuvenation… Restoring smooth skin, eliminating the appearance of acne, and unsightly long-standing pigmentation marks. Basic to advanced skin care steps are "ready" to serve you.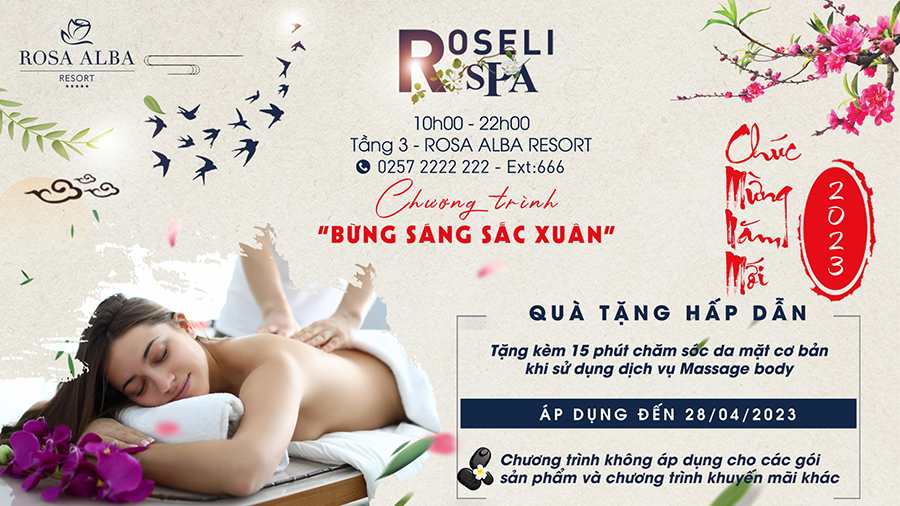 Spring Beauty Awakening Program for the Year of the Tiger
15 minutes of basic facial care will be included as a gift when using the Massage Body service.
This program runs until April 24th, 2023. It does not apply to other promotional packages or programs.
For more information, please contact: Roseli Spa Center – 3rd floor of Rosa Alba Resort & Villas Tuy Hoa
Hotline: 0257 222 2222 ext: 666
Service time: 10:00 AM – 10:00 PM.